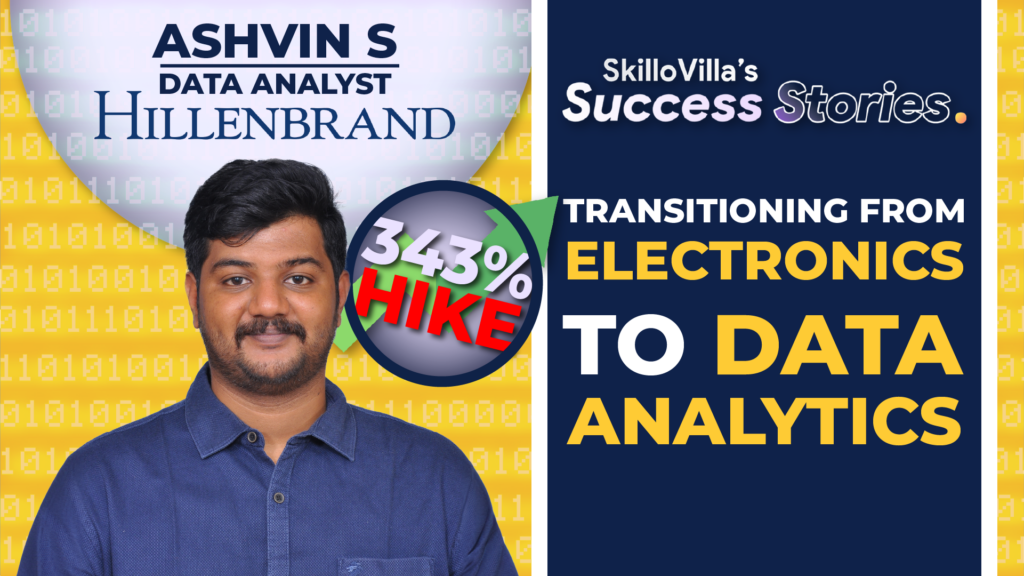 In the ever-evolving world of data analytics, Ashvin's journey stands as an inspiring testament to the power of education and determination. From the corridors of graduation to the heights of becoming a Certified Data Analyst, his journey navigated with SkilloVilla is a story worth recounting.
The Graduation Crossroads: A Familiar Junction
In the year 2019, Ashvin found himself at the familiar crossroads that countless fresh graduates encounter. Uncertainty loomed over his future; the job market was fiercely competitive, and the need for new skills was undeniable. Like many, he stood on the precipice of a life-changing decision.
Ashvin's pivotal moment came through a friend's recommendation—the introduction to SkilloVilla. Intrigued by the possibilities it held, he decided to delve deeper. Soon, he was in dialogue with SkilloVilla's dedicated team, where they illuminated the path ahead, offering valuable insights into the Data Analytics and Data Science career track and guidance.
SkilloVilla: The Right Upskilling Platform
With newfound clarity and bolstered confidence, Ashvin made the life-altering decision to embark on this path with SkilloVilla. He quickly realized that SkilloVilla was the right upskilling platform for him and a strategic partner in his pursuit of success.
Navigating Clarity: Learning from Industry Pioneers
Ashvin's journey at SkilloVilla was marked by the lucidity and interactivity of the curriculum. He found himself immersed in an environment where every facet of data analytics became comprehensible. The courses were more than theoretical; they were interactive experiences, enabling him to practically apply his newfound knowledge.
An exceptional feature of Ashvin's journey was the privilege to learn from industry pioneers, representing illustrious organizations such as Google, Amazon, and Swiggy. These experts provided real-world insights, demonstrating the effective application of data analytics in practical scenarios. The challenges posed did not come with ready-made solutions; instead, they fostered innovative thinking and honed problem-solving skills—crucial assets in the field.
Acquiring Industry-Relative Skill Set
Through SkilloVilla, Ashvin not only acquired valuable skills but also gained expertise that was keenly relevant to the industry. The Data Analytics program transcended theoretical knowledge, emphasizing practical application, thereby bridging the gap between academic learning and the dynamic professional landscape.
The Reward: Got Placed
Ashvin's unwavering commitment, along with SkilloVilla's expert guidance, bore fruit when he secured a coveted position at Hillenbrand Company, experiencing a remarkable 343% hike as a Data Analyst. His journey from a recent graduate to a Certified Data Analyst became a resounding reality, serving as a testament to his commitment to learning and the efficacy of SkilloVilla's career track. Watch the video here.
Message from a Certified Data Analyst
Ashvin extends a heartfelt recommendation to all those with aspirations in Data Analytics and Data Science. He underscores the significance of continual learning and practical application, firmly believing that with the right guidance, anyone can embark on the path to becoming a Certified Data Analyst.
Conclusion
Ashvin's journey with SkilloVilla is more than just a narrative—it's a story of transformation, resilience, and triumph. It serves as a guiding star for students, working professionals, and graduates alike, illuminating the path toward building fulfilling careers in data analytics or data science.
If you find yourself akin to Ashvin, remember that the journey to your aspirations might be closer than you think. SkilloVilla stands as the vessel to navigate these waters. Embrace the transformative voyage and join those who have turned their aspirations into accomplishments. Your future as a Certified Data Analyst could be the horizon you've been seeking.