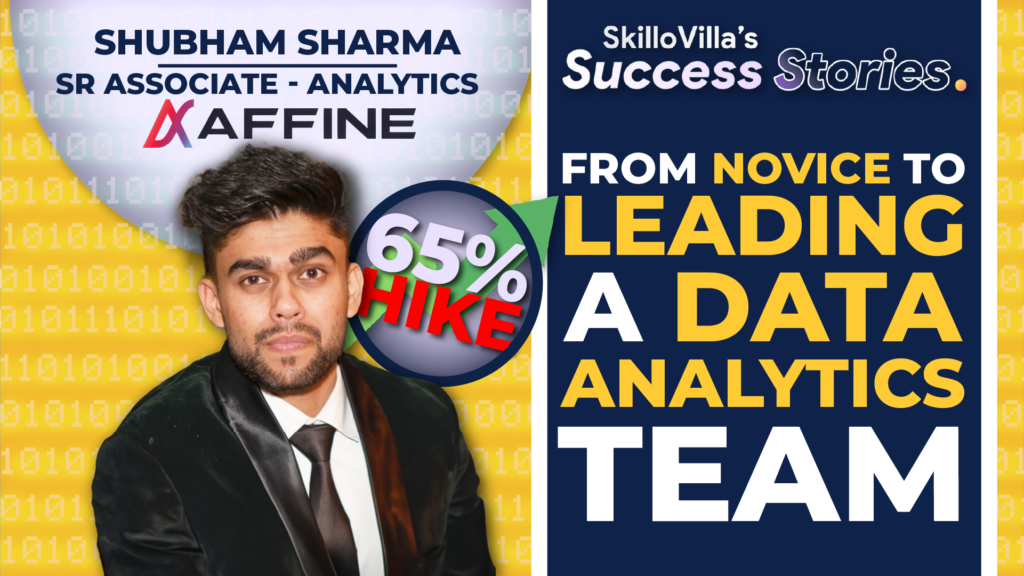 In the fast-paced world of sales, Shubham found himself at a crossroads. Working as a Business Associate at Byju's, he was grappling with the job demands that left little room for work-life balance. Determined to make a change, he set his sights on a career in data analytics.
However, as someone from a non-technical background, he faced uncertainties about transitioning into this field dominated by IT and computer science professionals. But who knew he would end up leading a data analytics team after upskilling in data analytics at SkilloVilla.
Discovering SkilloVilla
One day, as Shubham was scrolling through social media, he stumbled upon an advertisement about SkilloVilla's Data Analytics Career Track. Intrigued by the prospect of gaining data analytics skills, he visited SkilloVilla's website and conducted thorough research. What struck him about SkilloVilla was its structured approach to teaching data analytics. The curriculum was designed to cater to individuals like him, with no prior technical experience, and promised to bridge the gap between his current role and a future in data analytics.
A Structured Learning Journey
What truly stood out for Shubham were the live weekend classes hosted by industry experts online. These sessions dive deep into critical tools such as SQL, Excel, Power BI, and Tableau, all integral to the data analytics landscape. Through real-world business case studies and hands-on practice, Shubham gained practical skills that set him on a path to success.
Closing the Gap through Placement Assistance
As Shubham embraced SkilloVilla's curriculum, he noticed significant growth in his capabilities. The structured assignments and mock interview sessions played a pivotal role in his development. Mock interviews conducted by industry professionals provided valuable feedback, helping Shubham refine his communication and problem-solving abilities. This progress was critical to his confidence during interviews.
Triumph and Transformation
Shubham's hard work and dedication bore fruit when he secured a position as a Senior Associate at Affine Analytics with a hike of 65%. Leading a data analytics team of seven data analysts, he successfully transitioned from a sales professional to a data analyst. His journey underscores the transformative potential of education, determination, and access to the right guidance.
Join the Journey and Chart your Path
Shubham's story is an inspiration to students, working professionals, and recent graduates seeking a career change in the dynamic field of data analytics. His experience with SkilloVilla highlights the role of the right learning platform in acquiring the skills and support needed for a successful career transition. If you're considering a career in data analytics or data science, let Shubham's journey guide your way.
Embark on your path to success with SkilloVilla, where dreams become data-driven realities.
Click here to read more of SkilloVilla's Success Stories.