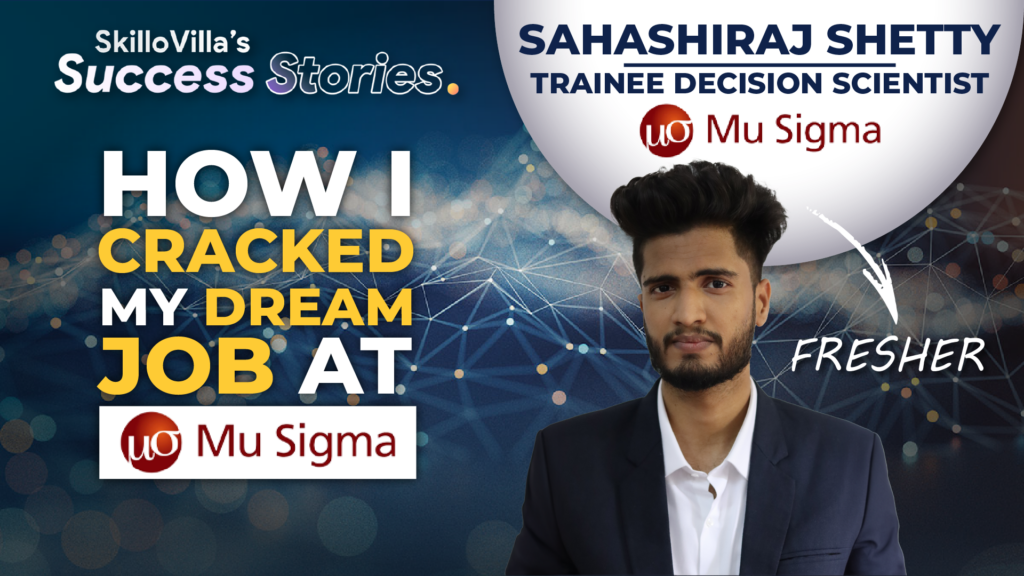 In order to stay relevant in a world increasingly ruled by technology, a student from a non-technical background bravely transitioned into the field of Data Science. Sahashiraj's story is about determination, resilience, and the transformative power of education.
Being a recent graduate in industrial engineering and management, he decided to Upskill and become a Certified Data Scientist. Hence, his story is proof that, with the right guidance and education, one can overcome any obstacle.
The Quest for Quality Education
Sahashiraj's pursuit of knowledge began with exploration when he delved into various online platforms like Udemy, YouTube, etc. These platforms offered insights but lacked depth and structure. needed to thrive in the competitive data science landscape.
Fueled by a thirst for knowledge and a desire to excel, he reached out to his college's placement team. Their recommendation led him to a game-changer—SkilloVilla.
Affordability and Confidence in SkilloVilla
What intrigued Sahashiraj most about SkilloVilla was the value it was offering at the price charged. Recognizing that not everyone comes from a privileged financial background, SkilloVilla made it possible for students from diverse economic backgrounds to access quality education.
Moreover, SkilloVilla's commitment to supporting non-technical students in their pursuit of data science careers instilled a newfound confidence in Sahashiraj.
Structured Learning and Practical Application
Sahashiraj's educational journey at SkilloVilla commenced with a comprehensive Data Science Career Track meticulously designed to teach the curriculum from the ground up. He valued the structured approach, including module quizzes that reinforced learning and maintained engagement.
What set SkilloVilla apart was its emphasis on practical application through case studies. Sahashiraj found immense value in hands-on learning, particularly in machine learning and statistics.
Insights from Real Industry Experts
SkilloVilla's live classes, conducted by industry experts, provided Sahashiraj with a priceless opportunity. He learned from professionals actively engaged in leading companies like Swiggy, Facebook, and HSBC. These experts offered real-world insights and answered questions in a relatable manner, providing a glimpse into the practical application of data science concepts.
Mastering Communication and Job Readiness
Sahashiraj's journey went beyond the classroom. SkilloVilla's mock interview sessions were instrumental in helping him gain confidence when articulating his projects and knowledge. Although he didn't secure his first-choice job initially, the experience of clearing three interview rounds was a powerful affirmation that his skills were in demand.
Today, Sahashiraj thrives as a Data Scientist at Mu Sigma, where his practical knowledge and unique problem-solving abilities set him apart.
Conclusion: Your Path to Data Science Success
Sahashiraj's remarkable journey from a non-technical background to a certified Data Scientist stands as a testament to the transformative potential of education. His story underscores the importance of continuous upskilling and staying updated with industry trends.
Whether you're a student pursuing a degree, a working professional eager to pivot your career, or a recent graduate seeking your path, Sahashiraj's journey with SkilloVilla offers profound insights and inspiration.
Join the league of those who have reshaped their careers with SkilloVilla and embark on your own journey to data science excellence.