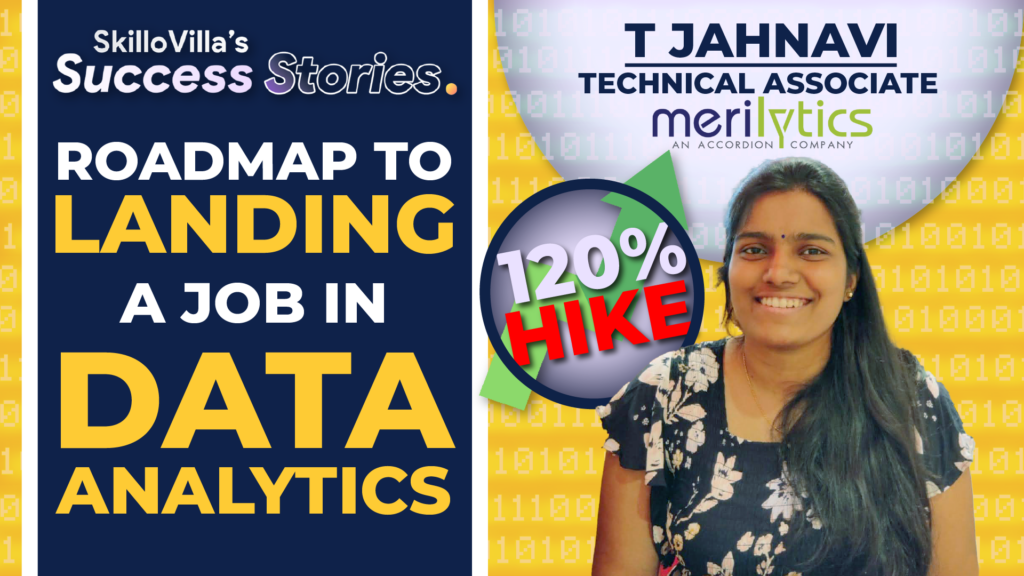 In a world overflowing with data, Jahnavi found herself at a crossroads. Freshly graduated and brimming with ambition, she was at the starting line of her career in Data Analytics, a path she knew was laden with challenges. However, her unwavering determination and the guiding hand of SkilloVilla were about to shape her extraordinary journey. This is the story of her remarkable transformation.
SkilloVilla – Where Dreams Take Shape
Jahnavi's voyage into the world of data began with SkilloVilla's Data Analytics program. Fast forward to today, and she's a certified Data Analyst and has landed a job at Merilytics at a 120% hike. But how did she get there? What was her secret sauce?
The first thing Jahnavi highlights is the incredible support system at SkilloVilla. Right from the beginning, she felt like part of a close-knit community. 'The curriculum, meticulously designed, tackled the most critical topics first', she says. This approach boosted her confidence, especially when it came to facing interviews.
Guided by the Best – Curriculum for Excellence
One of the standout features of SkilloVilla's program, according to Jahnavi, was the way assignments and capstone projects were handled. Every submission was thoroughly reviewed, and feedback was not just constructive but instrumental in her online learning journey.
The mentorship, too, played a pivotal role in understanding the core concepts. Having industry experts guide her through live sessions made the theoretical knowledge practical. These sessions weren't just monologues; they were interactive, addressing crucial questions and providing clarity.
Beyond Learning – Navigating the World of Placements
But the journey didn't end with learning; it extended to placement. SkilloVilla's placement team was a pillar of support, keeping her informed about active job openings and assisting her every step of the way. Jahnavi's placement in the Data Analyst domain was not just a job; it was the culmination of a dream realized.
What makes Jahnavi's story truly inspirational is that she didn't come from a technical background. She proves that with the right guidance and a curriculum designed for anyone, irrespective of their background, anyone can excel in the data world.
Join SkilloVilla's Data Analytics Career Track
So, if you're a student looking to shape your future, a working professional seeking a career pivot, or a graduate looking for opportunities, Jahnavi's story should serve as a beacon of hope. SkilloVilla's career track in Data Analytics could be your gateway to a thriving career in the world of data. Enroll today!
Check out more of SkilloVilla's Success Stories here.