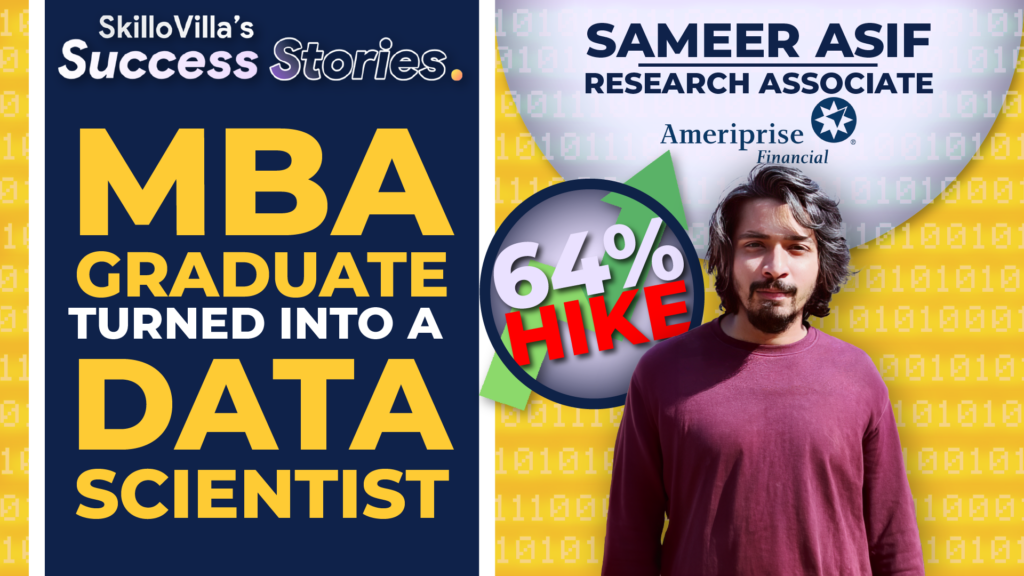 In the ever-evolving landscape of career dynamics, stories that illuminate the path of transformation and success stand out as beacons of hope and inspiration. Sameer's journey from a civil engineer, followed by an MBA, to a thriving Data Scientist, is one such testament to the power of upskilling.
In this gripping narrative, we delve into the challenges that compelled Sameer to embark on this remarkable journey with SkilloVilla, the invaluable skill sets he acquired, and how this voyage fortified his professional trajectory.
Embracing Change: The Genesis of the Journey
Sameer's journey began with the pivotal realisation that his passion lay in Data Science, a domain radically different from his background in civil engineering. After completing his MBA, he started applying for Data Science jobs. But every such job demanded certain skill sets in programming and machine learning. Due to his limited knowledge of such skills, Sameer couldn't clear these interviews.
However, challenges are often catalysts for growth, and Sameer knew that he needed a competitive edge to flourish in the data-driven era. Hence, the need to conquer these hurdles ignited Sameer's quest for a guiding light, leading him to SkilloVilla's Data Science Course.
Building a Data Science Career
SkilloVilla's Data Science Career Track is a comprehensive course for aspirants like Sameer. The meticulously crafted curriculum is designed to empower learners with practical skills that the industry demands. The conversation with the counsellor and the program's reputation for bridging theory and real-world application captured his attention.
SkilloVilla: The Guiding Light
Enrolling in SkilloVilla's data science program marked a turning point in Sameer's journey. Concepts that once seemed alien to him started to make sense, and coding became a language he could converse in.
From Python programming to the fundamentals of machine learning, he found himself immersed in a transformative learning experience. SkilloVilla's unique approach to combining theoretical knowledge with practical projects provided him with hands-on experience. Watch the full video here.
Skills Acquired: Crafting a Future
Sameer's journey wasn't just about acquiring knowledge; it was about mastering skills that would define his new career path. SkilloVilla empowered him with Python programming proficiency, a deep understanding of data analysis, and the ability to create machine learning models. These skills, once distant dreams, were now tangible assets that set him apart in the competitive job market.
The industry mentors were flexible in sharing their wisdom by addressing doubts and queries that students had beyond the virtual classes. The detailed feedback on the assignments and the engaging community on Discord transformed his learning into a collaborative venture and a fun experience.
Paving the Path: Placement Assistance
Armed with newly acquired skills and unwavering support from SkilloVilla's mentors, Sameer ventured into the professional world of data science. The job market that was once a source of frustration for him was now receptive to his profile, opening doors to a plethora of opportunities.
SkilloVilla's placement assistance played a pivotal role in aligning him with avenues that resonated with his aspirations. The mock interviews helped him prepare for the final interview rounds. The placement team ensured he was applying for all the incoming opportunities.
After being placed with a hike of 64% at Ameriprise Financial as a Research Associate, if Sameer ever wants to change companies, he is eligible for placement support from SkilloVilla for the duration of 2 years.
Inspiration for the Future
Sameer's journey is a shining example for anyone contemplating a career shift or seeking to enhance their skills. If his story resonates with you and your aspirations and sparks the desire for a fulfilling career change, then SkilloVilla's data science program could be your transformative journey too.
Read other SkilloVilla Success Stories here and get inspired.