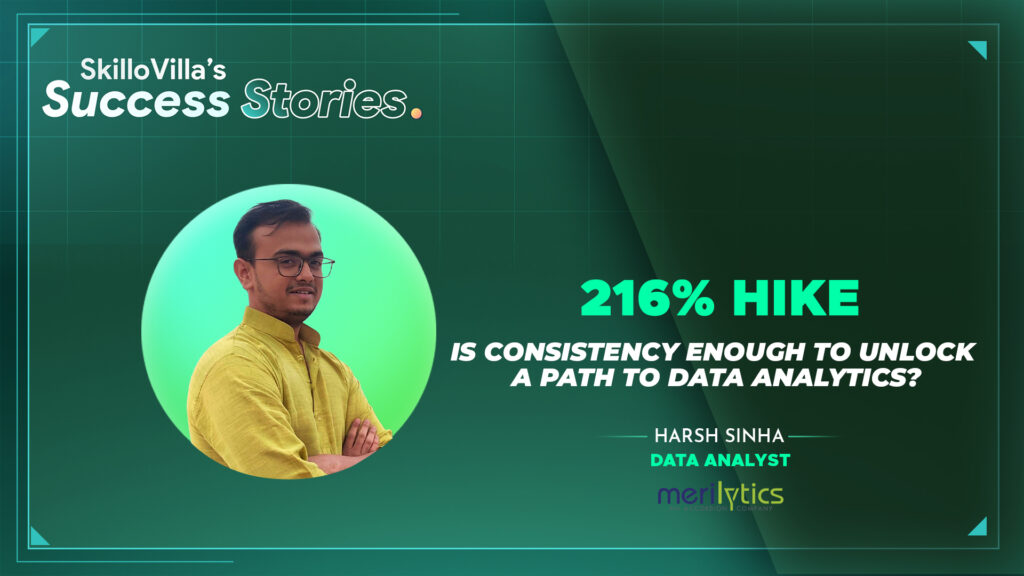 How it all started
Harsh Sinha is a 2021 civil engineering pass-out from MIT University, Manipal. In his final year project, while doing some analysis on building structures using analysis tools, he realized that it was not simple engineering but data analysis.
That's when he gained an interest in Data Analytics and decided to explore more about it. While exploring, he stumbled upon SkilloVilla and never looked back.
Let's deep dive into his learning journey and the challenges he faced throughout to make a successful career transition as a Data Analyst with a hike of 216%.
Exploring the Fascinating World of Data Analytics
In a world dominated by data and technology, the transition from a Civil Engineering background to Data Analytics might seem unconventional. However, for Harsh, it was a decision that led him on an exciting and fulfilling journey with SkilloVilla.
Harsh's introduction to data analytics came during his civil engineering project when he was analyzing building structures' safety using tools like STAAD Pro and CATIA. Intrigued by the process and its potential applications beyond engineering, he decided to explore Data Analytics further. That's when he stumbled upon SkilloVilla, a platform that offers comprehensive Data Analytics and Data Science courses.
The Learning Experience: Excel, SQL, and Statistics
Harsh experienced a delightful revelation upon joining SkilloVilla: he was pleasantly surprised to learn that data analytics does not require direct coding skills. Instead, he discovered that a Problem-Solving mindset is the key to excelling as a proficient data analyst.
He learned various essential skill sets, starting with Excel, which provided a solid foundation for data manipulation and analysis. Harsh also gained expertise in SQL, realizing its significance in handling large datasets beyond what Excel could manage.
Further, he explored statistics, honing his ability to extract meaningful insights from data through data-driven analysis.
Live Classes and Mentorship: Insights from Industry Experts
One of the standout features of Harsh's SkilloVilla experience was the live classes and mentorship sessions.
SkilloVilla's Top 1% industry mentors from renowned companies like Meta and Adobe shared invaluable insights into the practical application of data analytics in the real world. These sessions proved to be eye-opening and inspiring, giving Harsh a deeper understanding of how data analytics are used in different industries.
Harnessing the Power of Networking: Building a Personal Brand
Harsh recognized the power of networking and leveraged platforms like LinkedIn to showcase his learnings and projects. By consistently posting about his progress, Harsh attracted attention from potential employers and expanded his professional network.
This approach helped him build a personal brand and set himself apart in the competitive job market.
Challenges and Persistence: Balancing Work and Learning
During his journey, Harsh faced challenges balancing his coursework and a full-time job. However, his passion for data analytics and the support from SkilloVilla's placement team motivated him to prioritize his learning and job search.
They guided him in choosing the right company and helped him understand the difference between a generic and professional resume through resume-building sessions. He also attended mock interviews conducted by industry mentors, which proved instrumental in refining his interview skills and building confidence.
The Triumph of Landing a Data Analyst Role
Despite ups and downs, Harsh's persistence paid off. With the guidance of SkilloVilla's placement team, he landed a coveted position as a Technical Associate with Merilytics with a hike of 216%.
This accomplishment not only validated Harsh's decision to switch careers but also showcased the practical application of his newfound Data Analytics skills. Check out his full journey here.
Conclusion: Passion, Dedication, and Success in Data Analytics
Harsh's journey from civil engineering to data analytics with SkilloVilla exemplifies the power of passion, persistence, and the right guidance. His experience underscores the importance of researching and choosing a field that aligns with one's interests.
SkilloVilla's comprehensive curriculum, live classes, and mentorship opportunities provided Harsh with the knowledge and skills necessary to succeed in the Data Analytics industry. For others considering a similar career shift, Harsh's story serves as a shining example of how, with dedication and the right resources, one can make a successful transition to the world of Data Analytics.
Read other SkilloVilla Success Stories here and get inspired.