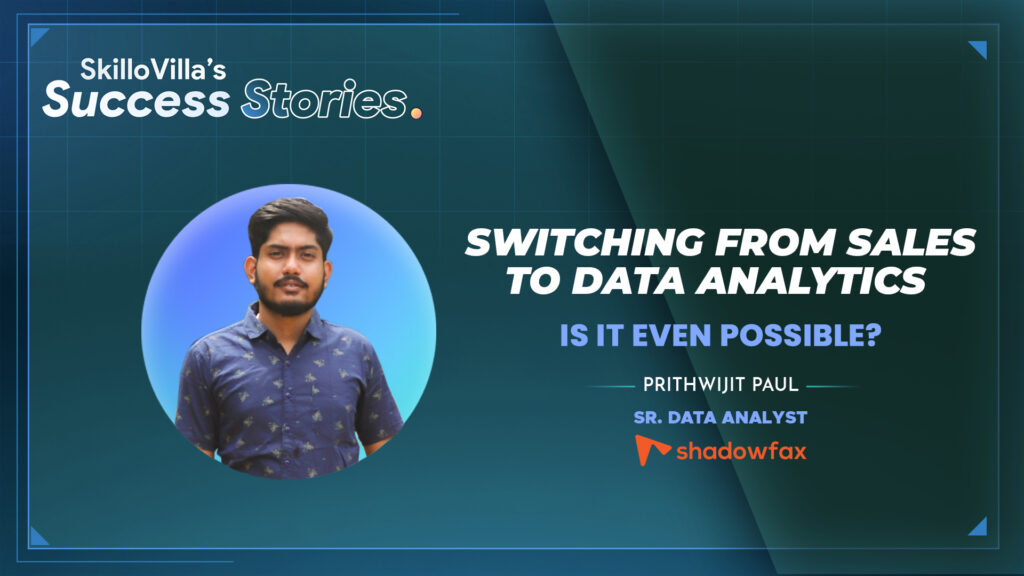 "I am stuck in my job! I don't want to do sales anymore! How can I shift my career?"
Do you also get these thoughts often? Prithwijit is one of you who was stuck in his job after completing his graduation. However, he didn't stop there. Driven by his passion for Data Analytics, he started looking for jobs in the field. Due to a lack of industry-relevant skill sets, he faced challenges in cracking interviews and fulfilling his dream.
Prithwijit's story took an exhilarating twist with the introduction of SkilloVilla. Join us on this captivating journey and witness the power of turning dreams into reality.
Discovering the Fascination with Data Analytics
Prithwijit Paul is a bright and ambitious graduate with a background in BBA in Hospital and Healthcare Facilities. After the completion of his graduation, he felt clueless and didn't start working immediately. After a while, he started working in the sales department of a civil hospital in Dhubri. He was not satisfied with his role and the quality of work, and desperately wanted to explore new opportunities and chart a path of professional growth. That's when he stumbled upon the fascinating world of data analytics through conversations with his friends.
His curiosity knew no bounds, and the field of data analytics instantly captured his imagination. He was captivated by the idea of unravelling complex problems and finding practical solutions using data-driven insights. However, he realized that to make this career switch, he needed to acquire the right skill set first.
A Turning Point with SkilloVilla: Curiosity meets Passion
With the ambition to thrive in data analytics and acquire the right skillsets, Prithwijit found himself at a crucial crossroads. That's when he discovered SkilloVilla – a platform renowned for its comprehensive and industry-focused data analytics career track. With a leap of faith, he decided to embark on this transformative journey.
After enrolling with SkilloVilla, Prithwijit's journey took a remarkable turn. Through their well-structured curriculum, he went from having limited technical knowledge to mastering advanced concepts in data analytics. The platform's practical and hands-on approach fueled his learning, allowing him to acquire the essential skills needed to excel in this dynamic field.
The Power of Industry Experts Led Live Classes
One of the highlights of Prithwijit's experience was SkilloVilla's intriguing live classes. These interactive sessions, led by industry experts from top organizations like Swiggy, Facebook, Dream 11, etc, brought real-world applications of data analytics to life. The insights and experiences shared by these experts inspired Prithwijit and gave him practical exposure and a glimpse of the exciting possibilities in his chosen domain.
Navigating the Placement Journey with SkilloVilla
SkilloVilla's support extends beyond training, focusing on the holistic development of its students. Armed with newfound knowledge and confidence, Prithwijit participated in resume-building exercises and mock interviews, allowing him to polish his presentation skills and prepare for actual job interviews.
The unwavering support and guidance from SkilloVilla's placement team proved to be invaluable. With their backing, Prithwijit secured multiple job offers, and he finally chose to become a Data Analyst at Shadowfax!
A Dream Turned into Reality: Thriving in Data Analytics
Today, Prithwijit stands tall as a successful Senior Data Analyst, fearlessly navigating through the ever-changing landscape of data-driven insights. His story serves as a true testament to the transformative power of SkilloVilla, which empowers individuals to unlock their true potential and pave the way for a rewarding career. Watch the full video here.
Embrace Your Own Journey
Prithwijit's journey is a beacon of inspiration for all aspiring data analysts and professionals seeking to make a career shift. At our company, we are immensely proud to have been a part of Prithwijit's remarkable career transition and are committed to empowering many more like him to embrace their own journeys of success.
So, if you're passionate about data analytics and ready to unleash your potential, SkilloVilla is here to be your guiding light. Begin on a journey of discovery, learning, and growth, and who knows, you might be our next success story! Read more success stories here.
Join SkilloVilla and let your dreams take flight!