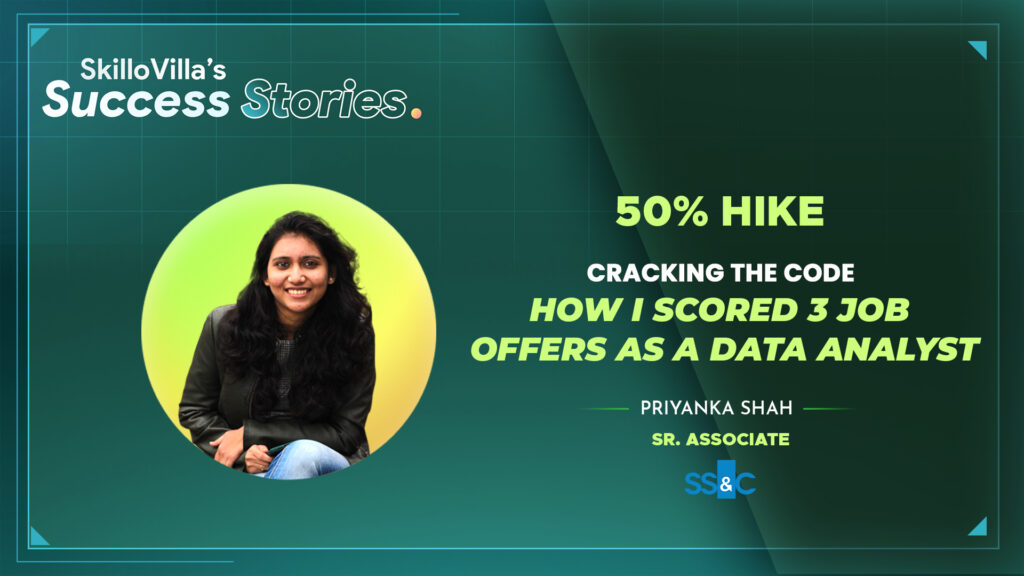 I was constantly in touch with the placement team when I had an interview at Morgan Stanley, and they guided me through the key points to focus on along with other companies. That's how I cracked all 3 interviews!

Priyanka Shah
In this captivating interview with Priyanka, we explore her inspiring journey as a data analyst and her transformative experience with SkilloVilla. Unearth how Priyanka's decision to enrol in SkilloVilla's career track propelled her professional growth and opened doors to exciting opportunities in the world of Data Analytics.
Get ready to embark on your own path of success as we unveil the unique advantages of SkilloVilla's program and why it is the ideal choice for aspiring Data Analysts.
Priyanka's Journey: From Aspiration to Achievement
Coming from an engineering background, specialising in electronics and communication, Priyanka's transition from working as a developer for 3 years to Data Analyst seemed like a dream at first.
However, SkilloVilla's comprehensive career track provided her with the perfect platform to turn her aspirations into reality. The course covered a wide range of topics, from basic to advanced skills, allowing her to develop a holistic understanding of Data Analytics.
The Impact of SkilloVilla's Curriculum
SkilloVilla's Data Analytics career track offers a unique blend of theoretical knowledge and hands-on practical experience. From data manipulation to visualization techniques and statistical analysis to deriving data-based actionable insights, the curriculum covers all the essential aspects of data analysis.
Priyanka highlights the importance of tools like SQL, Tableau, and Advanced Excel, which played a significant role in her professional journey. She emphasizes that while some may underestimate the value of Excel, to date, it remains a fundamental tool widely used in various industries.
Numerous students believe they possess a solid grasp of Excel, only to discover that reality falls far short of their perception. However, when they take up professional courses like the one offered by SkilloVilla, they come to realize that Excel is akin to an ocean, harbouring a multitude of advanced techniques essential for thriving in the industry.
She gained mastery over the tools and techniques that industry professionals rely on daily, equipping herself with the expertise to navigate complex datasets and extract meaningful insights in her current job role.
Learning Experience and Supportive Community
SkilloVilla's approach to learning goes beyond textbooks and lectures. Priyanka got an opportunity to engage in interactive modules, real-world case studies, and practical exercises through live sessions that made her understand the challenges faced by data analysts on a daily basis.
Collaboration with industry experts and fellow learners fostered a supportive community for her where she could exchange ideas and learn from diverse perspectives. She mentions Naman Jain and Deepak Kharol as standout industry experts who contributed significantly to her learning experience.
SkilloVilla's dedicated support team ensures that every student receives personalized guidance and timely assistance, enhancing their learning journey every step of the way.

Priyanka Shah
Throughout her journey, she received unwavering support from the SkilloVilla team.
The Role of SkilloVilla's Placement Assistance
As Priyanka progressed through the curriculum, she landed a prestigious role as a Business Analyst at ICICI Lombard in the finance sector. There, she honed her skills by applying practical solutions to real business problems learned from SkilloVilla's program.
Upon certification, Priyanka received exceptional placement assistance from SkilloVilla. From resume-building assistance to providing valuable mock interviews and personalised assistance, SkilloVilla's placement team was always there to help her.
Resumes play an important role when you're applying for any job. The team proofread everything, ensuring it was to the point. That helped me get shortlisted for at least 50+ interviews.

Priyanka Shah
With the team's guidance, Priyanka secured three job offers, ultimately choosing SS&C GlobeOp. The placement team played a pivotal role in her journey, supporting her every step of the way, from interview preparation to selecting the right company.
Unlocking Opportunities: Your Data Analyst Career Awaits
By enrolling in SkilloVilla's data analytics career track, you gain access to a world of exciting opportunities. The demand for skilled Data Analysts is rapidly growing across industries, and with the comprehensive training provided by SkilloVilla, you'll be ready to seize those opportunities.
Join the league of successful data analysts who have launched their careers with SkilloVilla and made a meaningful impact through data-driven decision-making.
To learn about her journey in detail, watch the full video here.
Read about more such SkilloVilla success stories here.