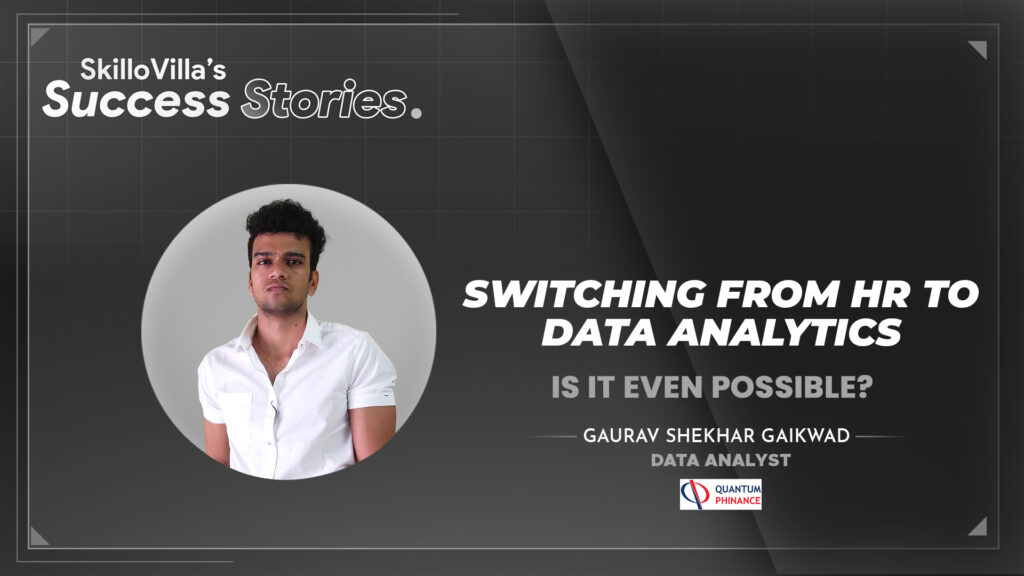 Discover the extraordinary career transformation of Gaurav, from HR to Data Analytics. Stick with us as we explore his inspiring journey in our recent interview. Gain insights from his experiences and learn about the immense potential for growth and fulfilment in embracing new opportunities.
Unveiling the Quest: Journey of Discovery into Data Analytics
Gaurav kick-started his career in the HR domain, specifically talent acquisition. As time went by, he grew tired of the monotonous nature of his job and yearned for something more dynamic. In his quest for a stimulating career, Gaurav came across the intriguing realm of data analytics. Driven by curiosity, he began researching institutes that offered comprehensive data analytics courses, which ultimately led him to the doors of SkilloVilla.
Learning Journey with SkilloVilla: Mentorship
Captivated by SkilloVilla's meticulously designed curriculum and intuitive website, Gaurav wasted no time in enrolling in their Data Analytics Career Track. He commends the course structure, tailored to accommodate learners from various backgrounds, allowing even beginners to grasp fundamental concepts and advance to more complex topics.
One aspect that stands out for Gaurav is the invaluable mentorship he received at SkilloVilla, with a special mention to his favourite mentor, Naman Jain from Swiggy. Naman's teaching style and ability to simplify complex technical terms forged a strong bond between them, enhancing the learning experience.
Value of Practical Knowledge and Industry-Relevant Skills:
As Gaurav delves deeper into his data analytics journey with SkilloVilla, he discovers a remarkable aspect that sets the program apart: weekend live classes. This unique schedule not only accommodated his commitments but also offered a profound learning experience.
During these live sessions, Gaurav witnessed firsthand how industry professionals leverage Data Analytics in their day-to-day work. The practical insights gained from real-world applications of Data Analysis become invaluable, fueling Gaurav's passion and propelling his learning journey forward.
Furthermore, the program's curriculum places a strong emphasis on statistical analysis—a critical skill that equips him with the necessary tools to excel as a Data Analyst in the industry. With SkilloVilla, Gaurav not only gains knowledge but also experiences a transformative blend of interactive learning and real-world relevance, paving the way for a successful career in Data Analytics.
Flexibility, Support, and Doubt Resolution
Recognizing the time constraints faced by both working professionals and students, Gaurav acknowledges the flexibility offered by SkilloVilla's program. He emphasizes that dedicating just 1-2 hours per day to the course is sufficient to become a proficient Data Analyst.
SkilloVilla's supportive community, along with platforms like Discord, played a vital role in facilitating effective doubt-resolution practices for him. For those who seek additional assistance, SkilloVilla goes the extra mile by providing doubt resolution classes on Saturdays.
Placement Journey and the Importance of Certification:
Certification plays a significant role in securing placement opportunities at SkilloVilla

Gaurav Shekhar Gaikwad
Gaurav advises all individuals to first fulfil their certification criteria before considering placement assistance. Once you are certified, start with your resume-building process as it is the first and crucial step in the placement process followed by mock interviews.
Through well-structured mock interview sessions, Gaurav received invaluable guidance and practice to excel in actual job interviews. These sessions not only boosted his confidence but also sharpened his interview skills, enabling him to make a lasting impression on potential employers.
Overcoming Challenges and Achieving Success:
Gaurav's path to becoming a certified Data Analyst was full of challenges. After completing his certification, he encountered a five-month gap before receiving his first interview call. However, Gaurav refused to be disheartened and understood the tough market conditions and certain shortcomings in his placement readiness..
During this period,  the placement team helped him utilise his time wisely by providing him refresher material ensuring he was well-versed in all aspects. His dedication and perseverance eventually paid off when he cracked his first interview and secured a coveted position as a Business Analyst at Quantum Phinance.
Gaurav's inspiring story showcases the power of persistence, turning setbacks into remarkable success.
Conclusion
Gaurav's inspiring journey from HR to Data Analytics demonstrates the power of perseverance and the profound impact of a well-structured educational program like SkilloVilla. With determination and the right resources, Gaurav successfully transformed his career and found fulfilment in Data Analytics.
His journey serves as a motivation for those seeking to embrace a new career path, emphasising the value of continuous learning and industry-relevant skills. Check out the full video here and subscribe to SkilloVilla's Youtube Channel for more such empowering stories.
If you are an advent reader, tap here to read more such SkilloVilla Success Stories.