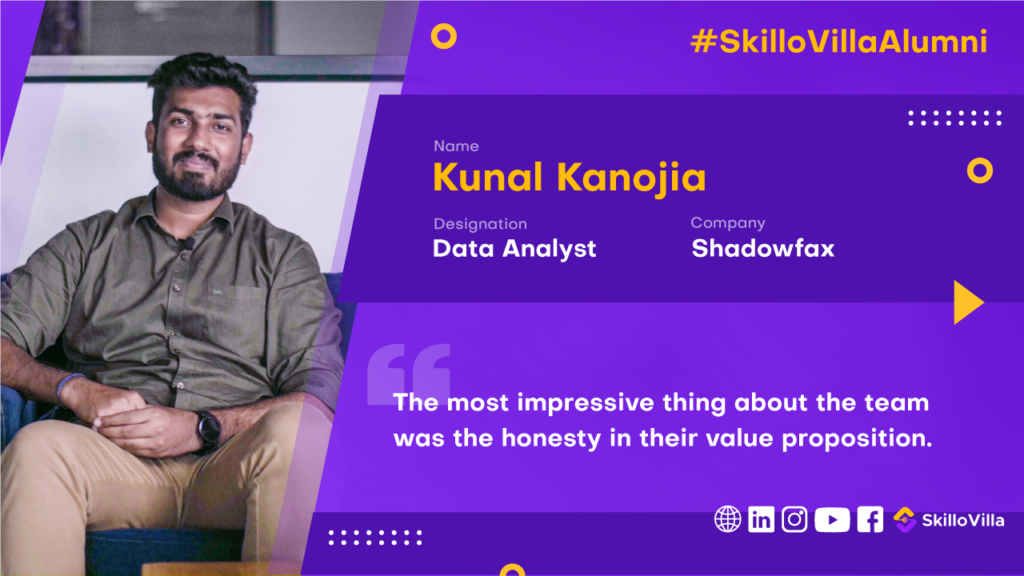 Step into the extraordinary world of Kunal Kanojia, a pioneer who dared to follow his true calling and embarked on a remarkable journey of career transformation. In this captivating blog, you will uncover Kunal's inspiring narrative as he transitions from a production executive to a thriving data analyst.
Learn how SkilloVilla became the catalyst for his growth, equipping him with the skills and confidence needed to excel in the field of data analytics.
A Quest for Fulfilment: The Beginning of a New Journey
Kunal's journey begins with a sense of uncertainty and a longing for fulfilment. Despite his role as a production executive, he yearned for something more in his career. Driven by curiosity and a thirst for knowledge, he set out on a quest to discover his true calling.
Discovering the Data Analytics Spark: The Turning Point
In the midst of his exploration, Kunal's path takes an exhilarating turn, unveiling a newfound fascination with the transformative power of data analytics. Intrigued by its allure, he dives into the captivating field, driven by the realization that data holds the key to invaluable insights and impactful decision-making.
SkilloVilla: The Game-Changer
Kunal's pursuit of venturing into data analytics led to extensive research. He discovered that many E-learning platforms falsely promised a 100% job guarantee, leaving him disillusioned by their lack of substantial outcomes. Hence, none of these platforms felt genuine or trustworthy to him.
He then stumbled upon SkilloVilla, an upskilling platform that promises a comprehensive and immersive learning experience in the fields of data analytics, data science and machine learning through its career track.
After his interaction with SkilloVilla's career counsellor, he realised how SkilloVilla stood out from other platforms with its transparent value proposition and commitment to making students job-ready. Therefore, he decided to enrol himself in SkilloVilla's data analytics career track.
Empowering Growth: SkilloVilla's Curriculum
With SkilloVilla's well-designed and holistic career track, Kunal embarks on his transformative learning journey. He navigates through engaging milestones, challenging assignments, and live sessions with industry experts from companies like Swiggy, Microsoft, Amazon, etc. In interactive classes, he acquired analytical and problem-solving skills through real-world case studies, unlocking his potential as a data analyst.
Aspiration to Industry Readiness: SkilloVilla's Placement Support
SkilloVilla's unwavering support played a pivotal role in Kunal's career transformation. The placement team provided valuable guidance on resume building, interview preparation through mock interviews, and industry insights, thus, helping him land his dream job.
The Power of Belief: Kunal's Success Story
Kunal's journey reaches its pinnacle as he secures his dream job as a data analyst. With newfound confidence, he realises the power of self-belief, perseverance, and continuous learning. He becomes a testament to the transformative impact of following one's passion and investing in the right learning platform.
Conclusion:
Kunal's journey from a production executive to a successful data analyst showcases the immense possibilities that lie within each individual. SkilloVilla's comprehensive curriculum, mentorship, and placement support served as the driving force behind his career transformation.
His story serves as an inspiration to all aspiring data enthusiasts, encouraging them to embrace their true calling. Pursue their passion, and unlock their full potential with the support of a dedicated platform like SkilloVilla.
Get ready to embark on your transformative journey, where possibilities are limitless and success knows no boundaries. Click here to become familiar with SkilloVilla's Career Track.
Watch Kunal's video via the link and subscribe to SkilloVilla's YouTube channel for more interesting journeys! To read more about other SkilloVilla Success Stories, tap here.