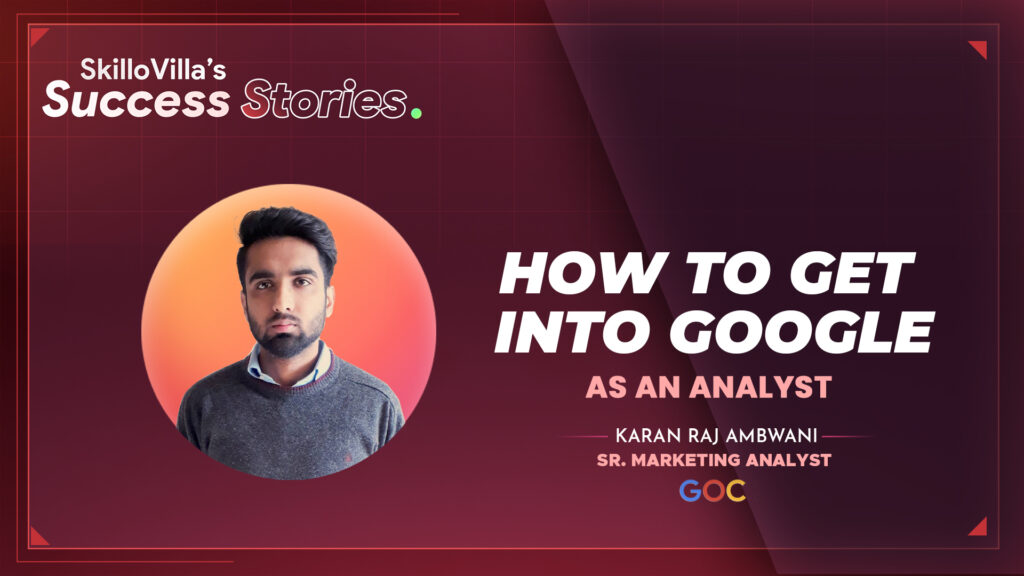 Karan Raj Ambwani initially embarked on a career in Mechanical Engineering, expecting a promising future in the field. However, a surprising turn of events led him to discover his true passion for becoming an Analyst, which ultimately changed the course of his professional journey.
Driven by this newfound calling, Karan embarked on an unwavering quest for knowledge, determined to pivot his career toward his newfound passion. Amidst the myriad of options, he discovered SkilloVilla – a platform that would equip him with the necessary skills to excel in the field of Data Analytics.
Witness the unfolding of a remarkable career transformation, where passion meets opportunity!
A Diverse Background
Karan's initial journey into the professional world involved working in sales operations. There he honed his skills in data management, presentation creation, and client engagement. Yet he wished for a career that could combine his interest in analytics with marketing strategies. So he decided to explore data analytics further.
The Search for the Ideal Path
While exploring various career options, Karan stumbled upon SkilloVilla while searching for Data Analytics programs online. Captivated by the information he found on the website and the insightful conversation he had with a SkilloVilla counsellor, he decided to move forward and attend a demo class with the industry expert. After attending the demo class, he was convinced to enrol in SkilloVilla's Data Analytics Career Track.
Embracing the SkilloVilla Experience
Recognizing the value of SkilloVilla's comprehensive data analytics course, Karan enrolled and began his learning journey. Leveraging his prior experience in business operations and marketing, he found the fundamentals of the course accessible while remaining eager to delve deeper into Problem Solving, SQL, and Statistics.
Unleashing the Potential
For six months, Karan dedicated himself to mastering the tools, concepts, and techniques of data analytics. He quickly became competent in problem-solving, SQL, Tableau, and Excel through SkilloVilla's structured curriculum and milestone-based assignments. The mock interviews enabled him to test his knowledge and refine his skills.
Getting Industry Ready
The vivid support provided by the placement team in the form of mock interviews and resume building helped him shine in the interviews. Eventually, it opened doors to numerous opportunities that set him up for success. As a result, he secured a position as a Senior Marketing Analyst at Google. His transition from sales operations to analytics is a testament to the power of perseverance and upskilling.
Message to Aspiring Data Analysts
Karan's success story serves as an inspiration to all who seek to forge their own career path. He encourages individuals to invest their time in learning new skill sets in a structured manner. The milestone-driven career track at SkilloVilla helps one understand the concepts easily and in a comprehensive way. As a result, it not only helps one find their true calling but also equips them with the versatility to navigate various opportunities.
Conclusion
Karan Raj Ambwani's journey from sales operations to becoming a Senior Marketing Analyst at Google stands as a testament to the transformative power of one's sheer determination.
SkilloVilla is proud to be a part of his journey and urges more individuals to develop their careers in the field of data by upskilling. Keep up with our success stories to learn more about how SkilloVilla has made an impact on other candidates' lives.
Check here to learn more about SkilloVilla's career track; and watch the full video here.