Are you a Data Analytics aspirant tired of endlessly scrolling through job portals, perfecting your resume, and facing nerve-racking interviews? We know how daunting the job search can be. At SkilloVilla, we are here to help you every step of the way. Moreover, nothing inspires us more than the incredible success stories of our candidates.
Here's the inspiring journey of Garima Singla – a determined BTech and MTech graduate who turned her dreams into reality as a Senior Business Analyst at WNS Global Services. Dive into the trials and triumphs of Garima's journey. And discover how SkilloVilla helped her achieve her career goals.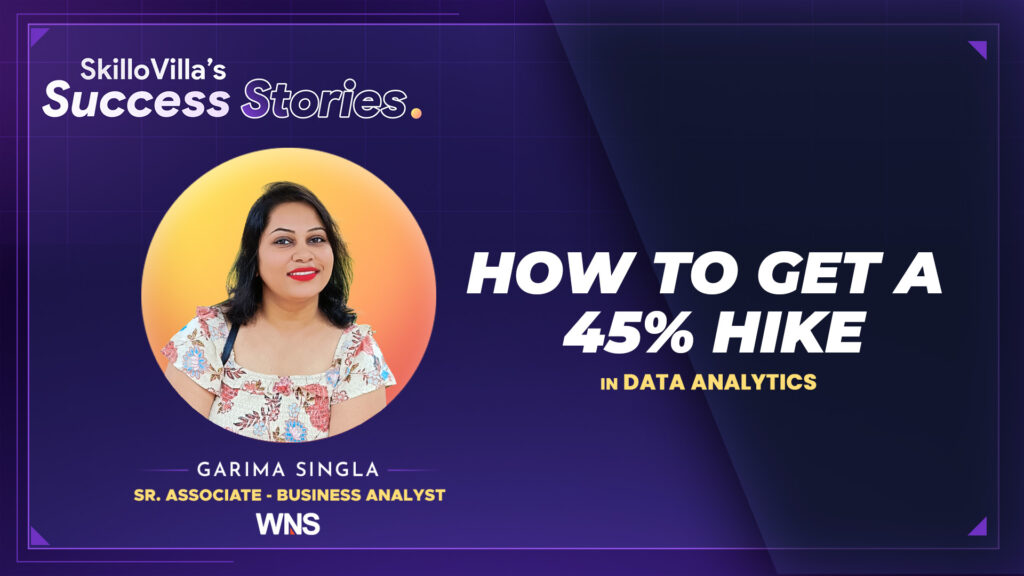 Breaking Barriers: The Inspiring Journey of Garima
Garima, a talented and motivated individual, obtained a senior electronics engineer position at MV Electronics after completing her master's degree. However, working in the core electronics domain did not pique her interest. Hence, she decided to switch to the IT domain.
She began exploring options in a techno-functional job role. With prior MS Excel knowledge, Garima aimed to deepen her data analytics skills and industry knowledge. In her pursuit of a suitable online course for her career in data analytics, she sought affordability and a convenient duration.
She wasn't looking for a long-term commitment and didn't want to break the bank on an online Data Analytics course. That's when she stumbled upon SkilloVilla, which perfectly solved her problem.
Balancing Work, MBA, and Learning a New Skill: Journey with SkilloVilla
After attending the masterclass with the industry expert, Mr. Deepak Kharol, she knew that SkilloVilla was the right platform to invest in. Without delay, she enrolled in the Data Analytics Career Track and began her online learning journey with SkilloVilla.
We're happy to have had Garima as a candidate who found the right balance in the Data Analytics career track with her busy schedule. This shows that SkilloVilla's Career Track is designed in such a way that Despite being a working professional anyone can upskill.
While pursuing her MBA, she consistently gave 1-2 hours of her time to the course curriculum, which helped her complete assignments and milestones on time. Following the schedule plan provided by SkilloVilla made it easy for her to be consistent and accomplish her learning goals.
Upskilling, Resume Building, and Mock Interviews: Placement Journey
Right after upskilling and getting certified as a Data Analyst, Garima started preparing for her interviews. Initially, she lacked the confidence she needed to ace her interviews. But with SkilloVilla's expert guidance and personalized training through resume building and mock interviews, she gained the right skill sets and industry knowledge necessary to excel and crack the interviews.
SkilloVilla's practical approach to interview preparation helped Garima improve her communication skills, prepare for tough questions, and project herself in the interviews. With SkilloVilla's support, she could crack the interview at WNS Global Services. Her remarkable performance during the interview impressed the recruiters. Eventually bagged a job offer with a 45% hike!
Conclusion
Garima's success story is a testament to the power of perseverance and the importance of investing in one's skills. SkilloVilla is incredibly proud to have played a small role in Garima's journey to success, and we are committed to helping more individuals upskill themselves.
If you're struggling with interviews or looking to upskill yourself in the data domain, we invite you to join SkilloVilla's Data analytics or Data science career track and embark on a journey of growth and success. Together, we can help you overcome your fears and build your career successfully in the data industry.
Want to land your dream job with a 45% salary hike like Garima? Click here to watch the full video. Subscribe to SkilloVilla's YouTube Channel to stay updated.
Stay tuned for other SkilloVilla Success Stories here!