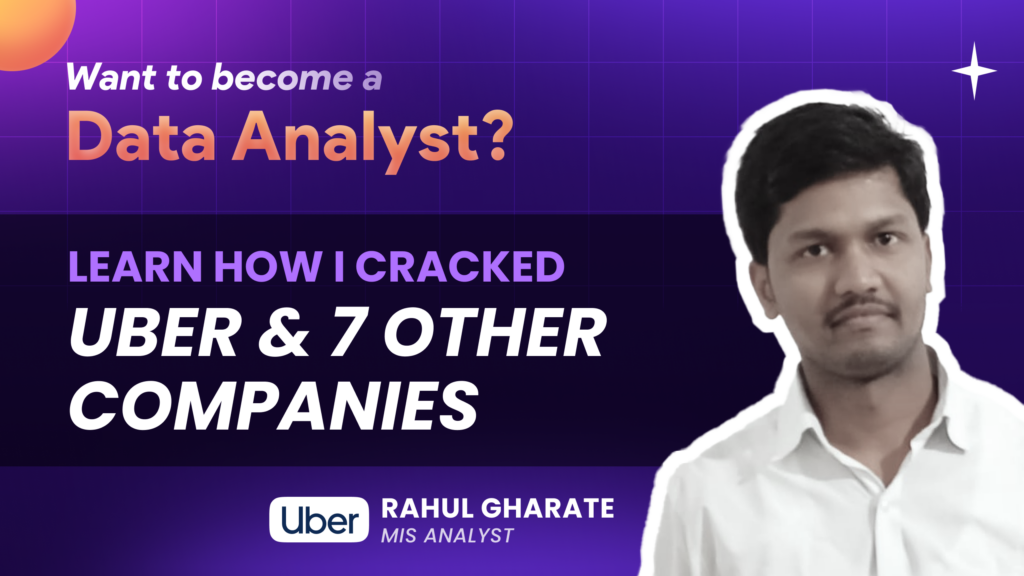 When aiming for a successful data analyst career, construct a path that aligns with your aspirations, not just any opportunity. This requires self-confidence, reliable guidance, and unwavering determination to accomplish your ambitious goals.
Rahul Gharate's remarkable journey serves as a shining example of how, with the right support, anyone can transform their career aspirations into reality. Placed at Uber Technologies as an MIS analyst, Rahul shares his inspiring path to becoming a Certified Data Analyst with SkilloVilla.
Overcoming Struggles
Rahul encountered his fair share of challenges along the way. Determined to upskill himself in the field of data analysis, he sought the guidance of SkilloVilla. The program proved to be a worthy investment as Rahul discovered the power of consistency and determination.
Through SkilloVilla's comprehensive curriculum and engaging live sessions, Rahul gained the necessary skills and knowledge to excel in the industry.
How was your learning experience with SkilloVilla?
I love your assignment, capstone project, and live sessions, which are led by industry experts. I like your LMS system because anyone can understand these lectures easily.

Rahul Gharate
Rahul expresses immense satisfaction with his learning experience at SkilloVilla. He commends the well-structured curriculum, the quality of assignments, and the expertise of industry professionals leading the live sessions.
Moreover, he was particularly impressed by SkilloVilla's Learning Management System (LMS), which presented lectures in an easily understandable manner for learners from diverse backgrounds.
What role did mentorship play in your online learning journey?
In the live session, the industry experts took business case studies and discussed live capstone projects.

Rahul Gharate
Guidance from industry experts played a crucial role in Rahul's online learning journey. The live sessions provided valuable insights into real-world business case studies, enabling him to apply theoretical knowledge to practical scenarios.
Additionally, the mentorship experience greatly enhanced his problem-solving skills, preparing him for the challenges of working as a Data Analyst in the industry.
Can you shed some light on your placement journey with SkilloVilla?
From the introduction to salary negotiations, I received end-to-end support from the SkilloVilla team. I got 8 offers from different MNCs, one international and another 7 from national companies. The first offer I got was from the country of Oman as an MIS analyst. I was confused about choosing the right job for myself.

Rahul Gharate
Rahul's placement journey with SkilloVilla was nothing short of remarkable. With the support of the SkilloVilla Placement team, he received end-to-end assistance, from introduction to salary negotiations.
Rahul was presented with multiple opportunities, including offers from international and national companies. The team provided valuable guidance and helped him weigh the pros and cons of each option, ultimately leading him to make an informed decision to pursue a career at Uber Technologies.
Do you have any recommendations for data analyst or data science aspirants?
I strongly recommend SkilloVilla's Career Track to all data analytics or data science aspirants. Anyone from a B.A., B.COM, B.SC., ECE, M.E., pharmaceutical, or any other non-technical background can understand the lectures and live sessions.

Rahul Gharate
Based on his own experience, Rahul highly recommends SkilloVilla's Career Track to individuals aspiring to enter the world of data analytics or data science, regardless of their academic backgrounds.
SkilloVilla's courses are designed to be easily understandable, making them accessible to learners from various fields. Rahul's recommendation stems from his confidence in SkilloVilla's ability to equip individuals with the skills and knowledge needed to thrive in their chosen careers.
Conclusion
Rahul Gharate's journey with SkilloVilla showcases the platform's exceptional ability to empower individuals in the world of data analytics and data science. By equipping learners with the necessary skills and knowledge, SkilloVilla enables them to excel in their chosen careers. Rahul's success story serves as an inspiration for aspiring professionals, highlighting the transformative potential of dedicated learning and mentorship.
To watch the inspiring video of Rahul's journey with SkilloVilla, click here. Don't forget to subscribe to SkilloVilla's YouTube channel to stay updated on more success stories and valuable industry insights.
To explore the Data Analytics & Data Science career track, click here. Get ready to unlock your full potential and embark on a fulfilling career in the world of data analytics and data science with SkilloVilla!
Stay tuned for other SkilloVilla success stories here!