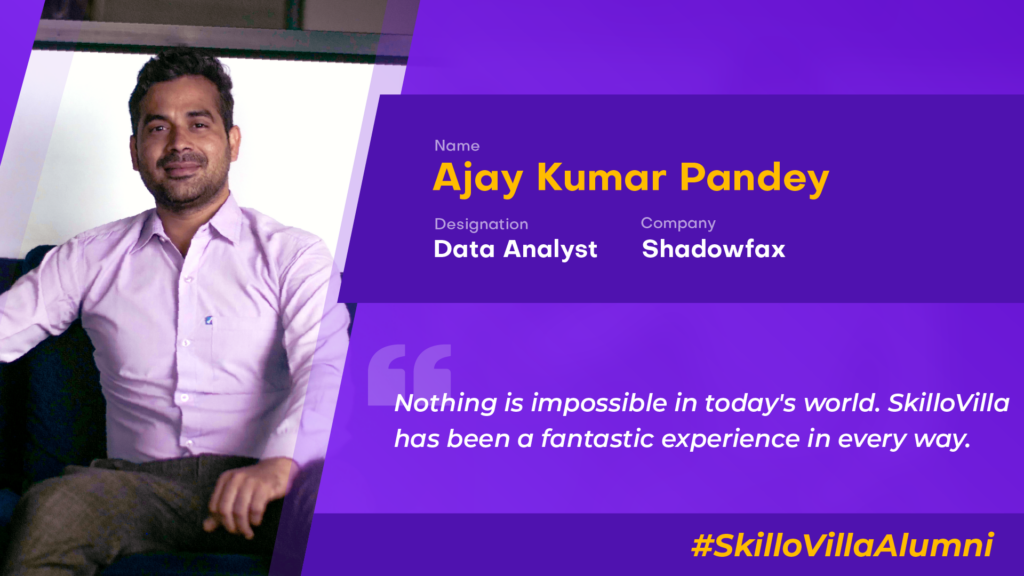 In today's fast-paced world, career paths can take unexpected turns, leading us to discover new passions and opportunities. Given that, Ajay Pandey – a data-driven professional, transitioned his career from a successful marketing professional to a Data Analytics role.
Discover Ajay's transformative journey, into the Data Analytics field, shaped and guided by SkilloVilla. Join us as we delve into Ajay's story of self-discovery, resilience, and the power of continuous learning.
The Turning Point
Ajay Pandey started his professional journey as a marketing executive at NexTech Learning Solutions. Excelling in his role, he climbed the corporate ladder to become an Area Manager in 2018. However, when the pandemic struck, everything changed. But as sales declined and uncertainty loomed, Ajay began questioning his career path and long-term aspirations.
A New Direction – Data Analytics
Driven to explore new career avenues, Ajay wanted to pursue a tech-based career aligned with his interests and growth aspirations. As a result, his research led him to develop a keen interest in the world of data analytics. Recognizing the need for guidance, Ajay found SkilloVilla, a platform that became the catalyst for his career transformation.
Learning Experience with SkilloVilla
Enrolling in SkilloVilla's data analytics career track, Ajay accessed comprehensive study materials, laying the foundation for his learning journey. Capstone projects allowed him to apply skills to real-world business problems, enhancing practical abilities. Above all, engaging live sessions featuring industry mentors from companies like Amazon, Razorpay, HSBC, etc clarified core concepts for him.
The mentors not only resolved queries but also inspired students to push beyond their comfort zones and maximise their learning potential.

– Ajay Pandey
Placement Assistance at SkilloVilla
Armed with a professional resume and polished interview skills, Ajay underwent SkilloVilla's meticulous process of mock interviews and resume refinement specifically. This preparation played a pivotal role in his job placement success.
In due time, with determination and confidence, Ajay aced SkilloVilla's placement process and secured a position as a Lead Data Analyst at Shadowfax. SkilloVilla's support and guidance throughout his placement journey made the career transition seamless and rewarding for him.
Words of Advice
At last, Ajay's journey serves as an inspiration to aspiring Data Analysts and Data Scientists. He firmly believes that nothing is impossible in today's world. SkilloVilla played a crucial role in bridging the gap between Ajay's marketing background and his dream data analytics career.
Furthermore, Ajay urges individuals to embrace continuous learning with SkilloVilla to enhance their data skills and unlock boundless opportunities.
Conclusion
Undeniably, Ajay Pandey's story is a testament to the transformative potential within us. With SkilloVilla's guidance, you can redefine your career in data analytics and emerge as a successful professional. Unlock your data analytics potential, regardless of your background, and embark on a fulfilling journey toward a prosperous future.
Remember, your transformative journey awaits, and SkilloVilla is here to guide you every step of the way. Start your data analytics adventure today and unlock a world of endless possibilities.
Watch Ajay's inspiring journey and gain valuable insights on our YouTube channel. Discover how Ajay navigated challenges, harnessed his passion for data, and transformed his career with SkilloVilla.
Click here to watch the video and embark on your own path to success in the world of data analytics.
Stay tuned for other SkilloVilla Success Stories here!