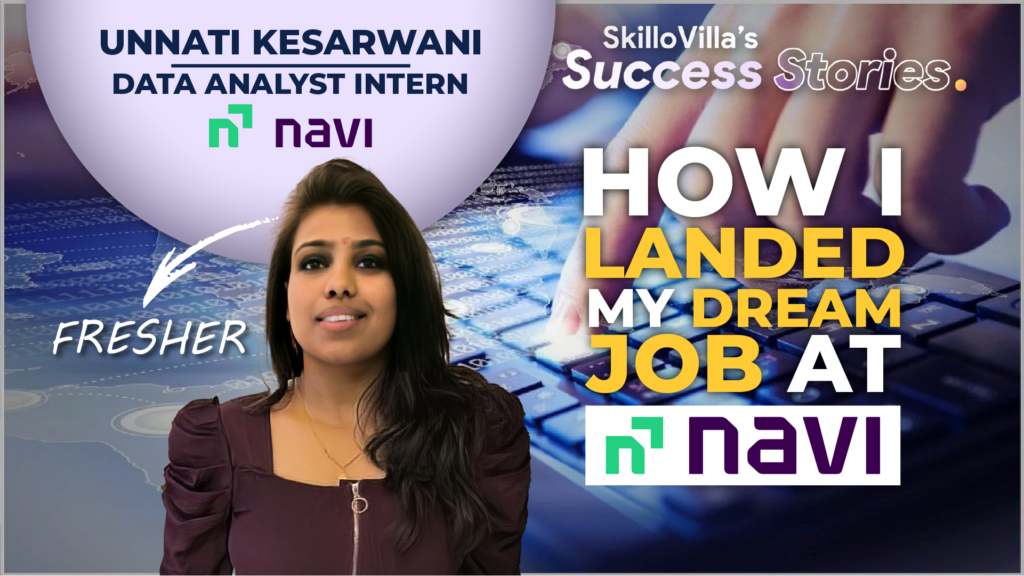 In the world of career transformations, some stories inspire, and then some stories empower. Unnati's journey is a testament to personal growth and resolute commitment. During a global pandemic, this Electronics and Communication engineer reshaped her career, embracing a dynamic and thriving field.
Navigating Change in Unprecedented Times
Unnati's journey begins at a crossroads familiar to many fresh graduates. Armed with her engineering degree, she embarked on a career in the electronics domain. However, as the world shifted to remote work due to the COVID pandemic, Unnati felt that something was amiss. The conventional job seemed to clash with her aspirations, leaving her with ample spare time.
It was during this time that an article caught her eye—a revelation that the future held great promise for Data Analytics and Data Science. With a basic understanding of the domain, Unnati decided to upskill and pursue a course in Data Analytics. In her quest for the perfect platform, SkilloVilla emerged as the guiding star.
SkilloVilla: Your Roadmap to Excellence in Data Analytics
Unnati's transformation came with its share of doubts. Could she manage her studies alongside her job? SkilloVilla's well-defined curriculum and structured approach provided the answer. The course's practical orientation and interactive study materials made her journey not only manageable but enriching.
Beyond the course structure, Unnati highlights the invaluable live sessions with industry experts from major tech companies like Microsoft, Google, and Adobe. These sessions offered real-world insights, bridging the gap between theory and practice. Unnati aptly describes it as the knowledge needed before stepping into the industry.
Placement Victory: A SkilloVilla Success Story
Unnati's placement journey was a testament to her commitment and SkilloVilla's unwavering support. She was in the process of interviewing with four different companies before securing her current position at a dynamic startup called Navi. Her role promises a dynamic work environment and constant learning. Take a look at a full video here.
Words of Wisdom: The Key to Success
Unnati leaves aspiring Data Analysts and Data Scientists with a valuable piece of advice:
"Stay consistent in your studies. Don't take it lightly. Just stay consistent. Give yourself time; give the course time."

Unnati Kesarwani
In an ever-evolving industry, success lies in continuous learning and practice.
Conclusion: Your Journey Awaits
As Unnati's story unfolds, we hope you've discovered inspiration and insight. For students pursuing graduation, working professionals, and graduates looking to enter the realm of Data Analytics or Data Science, Unnati's journey is a testament to what's possible when you embrace change, commit to learning, and find the right platform to guide your path. Unnati did it, and so can you.
Your journey with SkilloVilla may be closer than you think. Read other SkilloVilla's Success Stories here.